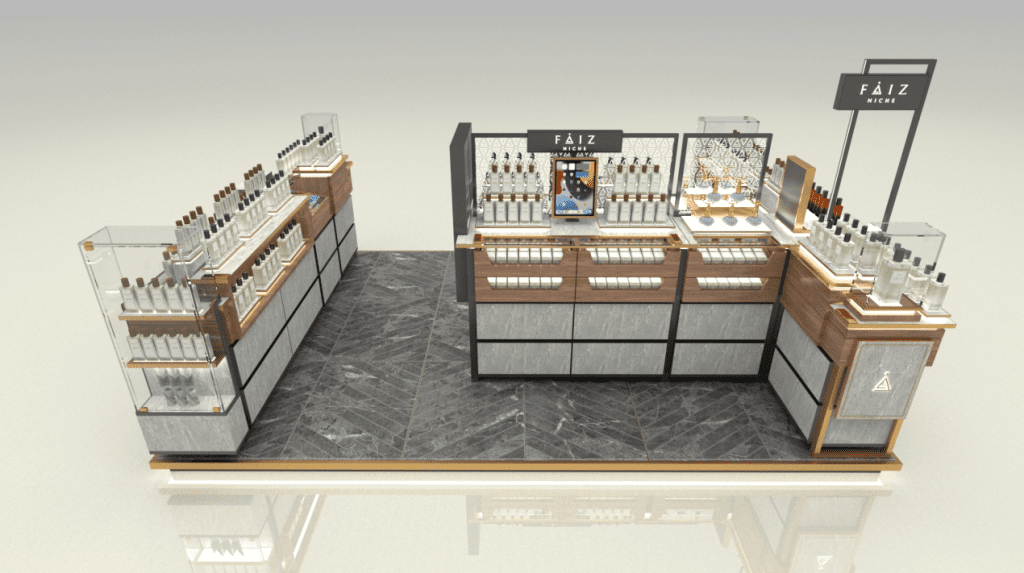 Our Newest Accomplishment of Making Custom modular exhibition stands
Dedication and smart work lead to loyalty and success. Your Brand Creator managed successfully to complete the custom modular exhibition stands, promotional display stands in Dubai, and display shelves project for a popular fragrance line, Faiz Niche. Faiz Niche offers popular fragrances with various ingredients for both men and women. The brand successfully displayed the shelves and created an impressive image.
FAIZ NICHE – OUR AMIABLE CLIENT
Faiz Niche is one of the most prominent fragrance lines in the Middle East. The fragrance brand has been working magnificently since 2010 with custom modular exhibition stands. It offers aromatic fragrances and perfume sets in men, women, and unisex varieties. The perfume variety includes floral, fruity, aromatic, woody, oud, leather, spicy, and other fragrance families. On the whole, the brand is highly reputed in the UAE and other areas of the Middle East.
Your Brand Creator has played a crucial role in creating customized display shelves and podiums for the stores. We have helped Faiz Niche get the best promotional display stands in Dubai. We designed the ideas for the custom modular exhibition stands, we proposed our ideas to Faiz Niche of and we made them happen.
Your Brand Creator understood the product collections and designed the display podiums. Faiz Niche used these podiums to display its fragrance collection well by sorting them into various sections. Thus, Your Brand Creator has served Faiz Niche by offering them some strong custom modular exhibition stands.
The well-sorted, well-organized stands displayed the fragrances and it was made easier for the brand to place them according to the fragrance families, bestselling items, prices, and new arrivals. Ultimately, these stands play a significant role in attracting customers and making a profit.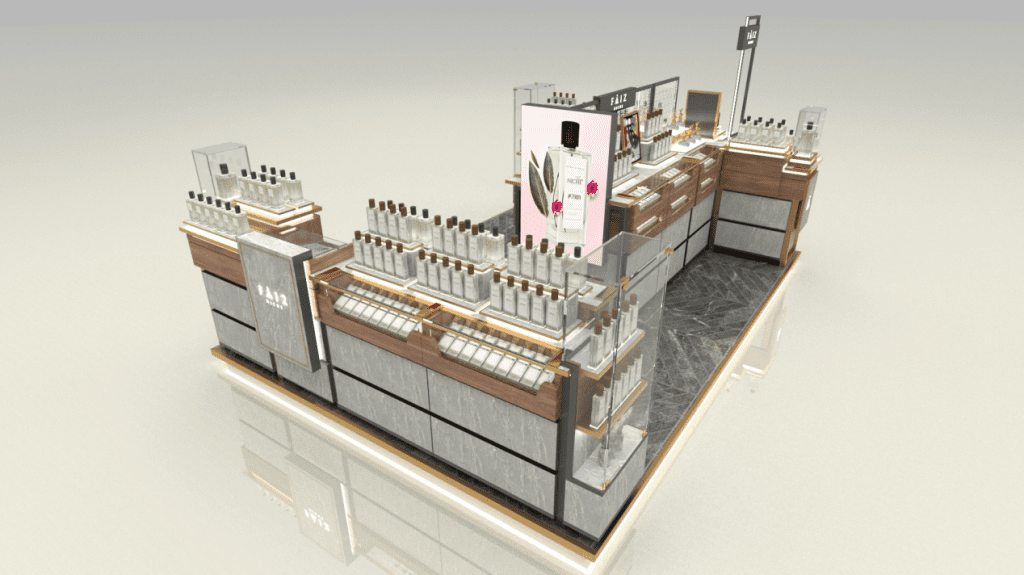 Customized Display Shelves And Long-Term Commitment
Your Brand Creator has not only designed customized shelves but also has created a good relationship with Faiz Niche. We will continue serving them in the expansion of stores and other projects.